Posts: 4755
Joined: 21 Jul 2006, 02:23
Location: Way Out West
---
Fucking Crackers
Posts: 15048
Joined: 31 Aug 2003, 01:28
Location: South Penriff
Contact:
The one still packing primo selections is

B
Wadesmith wrote:Why is it that when there's a 'What do you think of this?' post, it's always absolute cobblers?
---
rambling rose
Posts: 5385
Joined: 17 Jul 2003, 17:41
Location: Self-imposed exile.
---
BCB Cup Stalinist
Posts: 24660
Joined: 16 Jul 2003, 18:51
Location: at sea
B
Dancing in the streets of Hyannis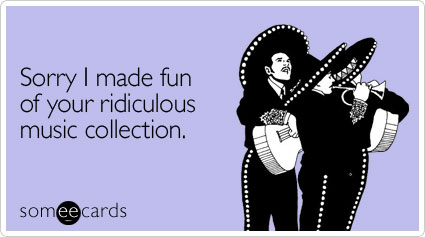 Bear baiting & dog fights a speciality.
---
Beer Battered
Posts: 12602
Joined: 24 Oct 2003, 20:04
Location: Hove Actually
B is overly reliant on its power pop choices and trying to cover the whole soul/RnB spectrum from Dionne (and I've already commented on the lack of imagination of that pick) to the Beastie Boys.
The fact is that the best of each genre is the Myracle Brah and Bettye Lavette on A which has much more in the way of variety and pleasant surprises. I'm picking Glastonbury over Solsbury !
A
We're way past rhubarb
---
Posts: 2244
Joined: 04 Apr 2008, 13:39
---
Posts: 10387
Joined: 20 Aug 2003, 11:58
Location: UK
Contact:
Without a doubt...
A
I love that 2.30 of Kirk. And thanks for the Lilys track too which I had not heard before.
---
Posts: 12781
Joined: 24 Jul 2003, 10:14
Location: Where joy divides into vision
Torn. And I'm surprising myself by going with
A
.
Smilies are
ON
Flash is
OFF
Url is
ON
---
Posts: 742
Joined: 16 Aug 2011, 20:54
---
Midnight to Six Man
Posts: 35784
Joined: 07 Aug 2004, 20:12
Location: Stockholm
Again, just based on the votes within the first 48 hours...
A
9-17
B
A was The Fish.
B, the semi-finals will start on Sunday so get me your next three by then.
fange wrote:One of the things i really dislike in this life is people raising their voices in German.
---
---