The Conformist, Il conformista
-
Bernardo Bertolucci 1970
Bernardo Bertolucci's The Conformist examines the roots of fascism not through political machinations but from an intimate, psycho-sexual point of view, exploring one mans motivations for joining the Italian fascist party and how this is clearly rooted in his traumatic childhood and repressed sexuality. Jean-Louis Trintignant is Marcello Clerici, a bureaucratic cypher born into a wealthy family that appears to have all the privileges of the bourgeois elite, however, the unsmiling Marcello has the look of a perpetually troubled man. His immaculately dressed exterior hiding huge emotional baggage that is gradually revealed through a series of flashbacks: a lonely, unhappy childhood spent isolated from his parents and bullied by his peers as well as the guilt and confusion arising from an allegedly brief homosexual experience with the families limo driver and his only friend growing up. Furthermore, as an adult he is also haunted by the secret shame of a mentally ill Father (possibly brought on by syphilis) and a morphine addicted Mother. It's these contradictions that will lead to his involvement in the murder of an outspoken Professor now exiled in a wintry Paris as the adult Marcello craves what he never experienced growing up: normality, acceptance, security and a 'family'. The final scenes are especially sad and tragic as we find Marcello living the 'normal' life with the wife and child that he has always craved yet still unhappy and isolated. As the dictatorship falls in 1943 Marcello arranges to meet his old, blind friend, Italo, from his party days in the street when he overhears an older gentleman trying to seduce a young man. Shocked Marcello realises this man is the limo driver from his childhood whom he presumed was dead. Outraged and showing real, visceral emotion for the first time he denounces the man as a homosexual and fascist before turning his anger on Italo who is left to fend for himself as a crowd of people metaphorically sweep him away. On his own after the limo driver has fled the scene he stares longingly at the young man left behind; alone, lonely and once again an outcast.
You can't discuss The Conformist without spending some time talking about its visual style and if you get the opportunity to see it on the big screen then please, please do as it's really something else. The design and style alone of the film marks it as something a bit special: the massive, empty rooms of the fascist buildings expertly depict the dehumanising impact of their ideology; all shadowy Neo-Roman columns, brutal angles and gently surreal images of giant busts and Fascist iconography. Robotic party members walk down its endless, lifeless corridors like ghosts adrift in a world bereft of feelings and emotions whilst weirdly oblique, askew camera angles accentuate the inherent, unnatural strangeness of the world Marcello longs to be part of. What Marcello's former Professor calls the
'shadows of reality'
.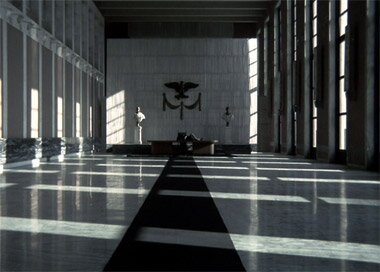 Compare this with the warmth of the wonderfully erotic dance scenes in Paris between Clerici and the Professor's wives. It's in these moments that the difference between the two worlds is so starkly obvious. Notice also how Clerici positively squirms as the French gather tightly around him in the dancehall; their warmth and joy is completely lost on him. Special mention as well to the more surreal scenes that give The Conformist an expressionistic edge that works brilliantly alongside the totalitarianism world of the Fascists. For example the wonderful scene in Clerici's Fathers marbled asylum that explicitly shows the madness lurking beneath the surface of the new society and that almost apocalyptic spookiness is atmospherically expanded in the shots of a deserted Rome that increasingly resembles a ghost town. The cinematography by Vittorio Storaro is jaw-droppingly stunning and rightly lauded. Fewer films look as richly sumptuous and its visual style and trademarks can be seen in everything from the Godfather to the Coen's Millers Crossing: from chilly, autumnal browns and creams to the steely January greys and disinterested blues of Paris and Rome to the shocking reds that reveal the hidden and not so hidden sexual desires of the characters.
Some memorable scenes? The murder in the woods is something of a tour de force from Bertolucci: the impotency and sheer coldness of Clerici as he watches the professor and his wife being murdered is beautifully played by Jean-Louis Trintignant, who's remarkably subtle performance is a career highlight. Any moment where the scene stealing, fabulously reptilian Manganiello weaves his sinister magic is fantastic. I love the more dream like intensity of certain moments like the wonderfully strange Dance Of The Blind attended by Marcello and Italo which has obvious echoes of Last Year At Marienbad (as do the beautifully composed scenes in the fascist buildings). Kudos also to the then 22 year old (!) Dominique Sanda who brilliantly balances the role of dutiful wife and bisexual flirt whose charm seduces not only Clerici but his rather dim witted wife as well and it's only with her that Marcello briefly appears 'normal'. It's also clear her character is the only one who really senses the tragedy that is unfolding and as such she is the heart and soul of the movie which only makes her memorable reaction to Clerici as he sits passively and impotently in the car even more devastating.
What The Conformist shows us the extreme lengths people will go to fit in, and belong. As Marcello tells the priest during his confession,
"I'm going to build a life that's normal"
. It examines the ease at which an individual's morality can be perverted by sexual repression, self loathing and guilt, and how this can be manipulated by those in power for their own pernicious ends. Bertolucci asks us 'how can a world built on lies and deceit; of hidden shame, sexual guilt and repression possibly be 'normal'?'. How is Marcello expected to become a healthy, well adjusted adult after being born into a world where a
'normal'
man is expected to
'turn his head to see a beautiful woman'
. Bizarrely the priest who Marcello confesses his sins to is more perturbed by him kissing a man when he was 13 than his involvement in murder and fascism. At every level poor Marcello's world is deformed and corrupted. He is a victim, worthy of our sympathy but ultimately impossible to warm to.
Apologies for the lateness but I hope the extra time has given people a chance to watch this incredible film. Your thoughts and opinions BCB are very welcome.....