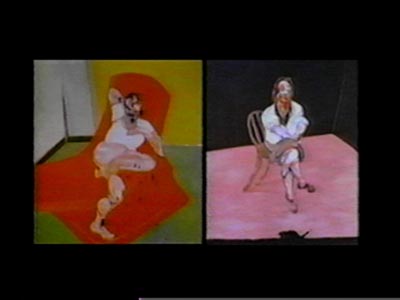 My favorite Leonard Cohen song includes the following lines:

We told her she was beautiful,
we told her she was free
but none of us would meet her in
the House of Mystery,
the House of Mystery.
Revisiting
Last Tango in Paris
again the other night, I kept thinking about the words "the House of Mystery". In the past I'll confess I had difficulty with this film. I got stuck where I think a lot of people get stuck - wondering whether it was realistic that these two people would come together in the way the film shows them doing so. From the very beginning it makes little sense. Why is he even in the apartment? He doesn't need a place to live, and he doesn't follow her in. It simply seems like both of these people are drawn to this place. For this film to work at all, I think you have to proceed from that point. This film probably wasn't intended as a realistic scenario about these two individuals. It is about a place that some people find themselves in for any number of reasons. A House of Mystery.
The mystery being worked out in this particular house is an impossible one: What is our true nature? Absent the context that our lives impose on us - who are we really? Can we ever really know each other...or even ourselves?
That Brando's Paul has come to this place out of profound grief is clear. Bertolucci is careful to let us in on his real life outside of the apartment, but only in a way that is almost as oddly decontextualized as the world he tries to create in his new domain. We are never allowed to see what his prior life was like. There are no flashbacks to that time. Instead we see him pick through the debris of that life - alternating between rage and impotence as he tries to make sense of it all. He is tired of the lies that dominate our lives - the make-up his mother-in-law insists on putting on his wife's corpse being just one example that inspires revulsion in him. So it makes sense that he would seek a place of brutal honesty - a place where intimacy is not as polite and loving as we wish we were, but us vulgar and imperfect as we actually are.
Why Schneider's Jeanne is drawn to this place and subjects herself to Paul's cruelties has been a sticking point for people since the film was released. What does she get from the deal? People talk about this film as if it is about mutual grief and suffering, but the glimpses we get into her life don't show us a woman in pain – at least not the kind of pain Paul is in. The supposed "vapidity" of her filmmaker fiancé Tom is often cited, but that loads the deck against him unfairly. In another film the same character would be viewed in far more positive terms. But in a film about stripping away artifice, Tom's romanticism can not help but look shallow. Of course there is an entire side conversation to be had about this character and his zeal for cinema (The casting of Jean-Pierre Leaud would seem to confirm that he is meant as a dig at Truffaut) – but keeping on track for now, Bertolucci seems to be indulging in a bit of loving contempt for the shuck and jive of documentary filmmaking along with all of the other forms of bullshit in the world. Whether Schneider's Jeanne is as turned off by the artificial quality of Tom's work and his general effusiveness we don't know. But she does seem to grasp the artificiality of it all and certainly seems to resent the intrusion of his camera crew more than a little bit.
Ultimately though I don't think she is drawn to this place because anything is all that wrong with her life. She is simply there there to find something real. She is young and still believes on some level that a person can actually live in a place like this. Brando's Paul is under no such illusion. In a remarkable monologue delivered to his wife's body he seems to find the catharsis he needs to move forward. Mentally he has left the place where he and Jeanne have connected. This is manifested physically as the next time Jeanne returns to the apartment, she finds him completely moved out.
Angry and betrayed at first, it becomes clear that she was never there for him at all – but rather was there to be in that place. Instead of mourning the loss of a lover, she simply invites Tom to move in so they can start their life there. At first he is taken with the size of it (the amount of freedom it allows), and begins immediately role-playing with her. Then suddenly he stops and says "We can't play like children any more, Jeanne" concluding finally, "This flat, it won't work for us." She stays behind to close the windows and return the key. "There's a lot to do" she says.
On her way home she is approached by Paul again – for the first time outside of their domain. He is dressed up and suddenly willing to engage on the more mundane terms that the outside world demands. They duck into a café with a tango contest going on where the rigid dance of the participants almost taunts them. Brando invites her to dance among them (essentially arguing in the process that they can somehow live among the bullshit of the real world without succumbing to it), but they are driven from the dance floor. Paul's illusion that they can live together in the real world is as naïve as Jeanne's notion that she could live forever in that apartment. The film's shocking conclusion is the only merciful ending left for Paul.
Anyhow I've said enough, but there
is
an awful lot more to be said about this movie. I am looking forward to all of your thoughts on it.