March 9th:
1972
Deep Purple
BBC Paris Studio, Lower Regent's Street
1974
Neon
Gong
Isleworth Poly
1975
Lindisfarne
The Winning Post, Whitton
Deep Purple
were one of those bands that John Peel was not inclined to include on his Sunday-repeated-on-Wednesday Concert Show, and was quite happy that they be recorded when he was on holiday! By this time, however, he was no longer hosting the programme, and it was probably Alan Black or Pete Drummond this night. If you liked Deep Purple, this was a goodie; if not, it was still pretty good. Ian Gillan decided to show us how much he was into purple by mooning the audience, and proudly displaying Y-Fronts that were as purple as the band's name!
Purple people, with the man for the penchant for purple pants on the right...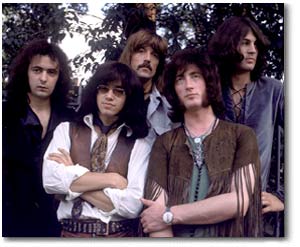 It's Pot-Head Pixie time in Isleworth as Daevid Allen's Gang, or
Gong
landed on Planet Earth. I never quite got these, though lots of my contemporaries and friends did. However, I was into Steve Hillage earlier than this, but I don't think I ever really checked out his later contribution to Gong.
A bunch of hippies, about 32 years ago.....
This was probably the last time I saw
Lindisfarne
. Never as good as their original line-up, I'm afraid.