You know...it is interesting. I was not a big fan of this film before choosing it. As you know I essentially used my turn at bat to experiment a bit with the whole film club idea, but I was not unhappy that this film was chosen in my poll. I had been meaning to revisit it and was hopeful that a good film club discussion might help me get a better hold of it.
Strangely...I think the fact that I watched it this time knowing that I was going to have to write about it really did the trick on its own. I was able to pull back from viewing it as a film about the behavior of its characters - which is where I used to get stuck - and instead see it in more poetic terms.
From the very beginning, I asked questions that I did not ask in the past. What, for instance, was the meaning of those two pictures in the title sequence?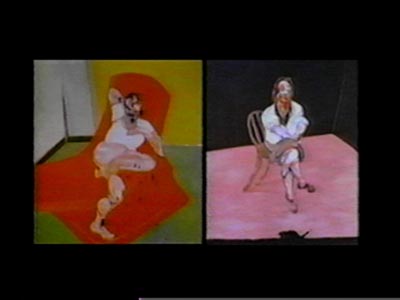 I didn't have an answer that worked for me until hours after seeing the film again. Then I stared at them a while and it all kind of fell into place. The first was a man as he truly is. The second is man inhibited...on stage. I began to see the entire film within that framework. Even the small details (my favorite being the little mocking homage to Jean Vigo in a scene between Schneider and Leaud).
Again...for all my chronicled hero worship of Brando, I did not come to this as a huge fan of this film. But having just had the key turn for me a bit I cannot help but want to be a bit evangelistic and implore those of you who are stuck where I was to look again from a different angle.
I think it is a legitimately brilliant film and one worthy of a lot more discussion than this.